Our company specialises in the production of bags, films and laminate sacks plain or printed up to 10 colours.
Our machines enable us to produce bags of different sizes, made of any sealable material for example: PA/PE; PA/PE EVOH; OPA/PE; OPP/PE; PET/OPP; PET/PE; PET/PE EVOH; PET/AL/PE; paper/AL/PE; AL/paper/PE as well as films designed for pasteurisation, sterilisation, heat-shrinkable and metallised.
Our advantage is fast execution of order, very good quality of products, robust seal strength.
Wondering if the package is right for you, order a free sample bag.
BAGS AND SACKS FROM HEAT-SEALING MATERIALS
Our company is specialized in production of different plastic bags both plain and printed up to 10 colors.
Our equipment was designed to produce bags from different sealing plastic and metallized materials: PA/PE; PA/PE EVOH; OPA/PE; OPP/PE; PET/OPP; PET/PE; PET/PE EVOH; PET/AL/PE; paper /AL/PE; paper/PE; AL/ paper/PE and shrink film as well.
We produce bags for all types of packaging machines and for different systems: sealing, vacuum or shrink packaging, MAP, pasteurization, sterilization.
Bags are produced in the following variants:
| | | | |
| --- | --- | --- | --- |
| Dimension | Flat bag | Doypack | Sachet |
| Width A [mm] | 30 - 650 | 80 - 440 | 30 - 600 |
| Height H [mm] | 30 - 900 | 100 - 500 | 30 - 900 |
| Depth B [mm] | - | 60 - 160 | - |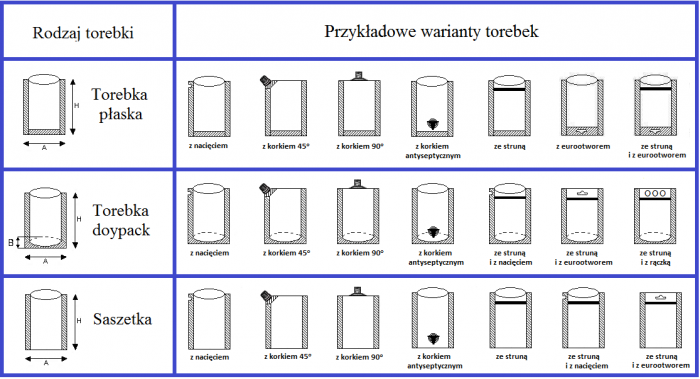 with eurohole or another type of hanger according to individual customer requirements,
with a side cut - easy opening of the bag,
with cap 45° or 90°,
with a zipper closure,
possible seal: 4 mm or 8 mm wide.
Newest items in our offer are bags with aseptic tap designed for
Bag In Box system. We offer flat bags, sachets and doypack - with flanges for filling hot or cold liquids. The standard packaging is designed for 3, 5 and 10l. Another dimensions upon request.
The advantage of packing in bags with aseptic tap is that products keep freshness and excellent taste for long time. These bags are designed both for liquid food (eg. juices, wine, water, milk, oil) and chemicals or technical fluids as well – different laminates will be used depend on specific characteristics of packed product.
For vacuum packaging of foodstuff we recommend small but fully automatic vacuum sealer and bags made of embossed PA/PE film.
Bags are used for packing fish, vegetables, fruits, meat and other food products in shops, restaurants and at home. Vacuum pump evacuates atmosphere and enables food to keep its natural aroma.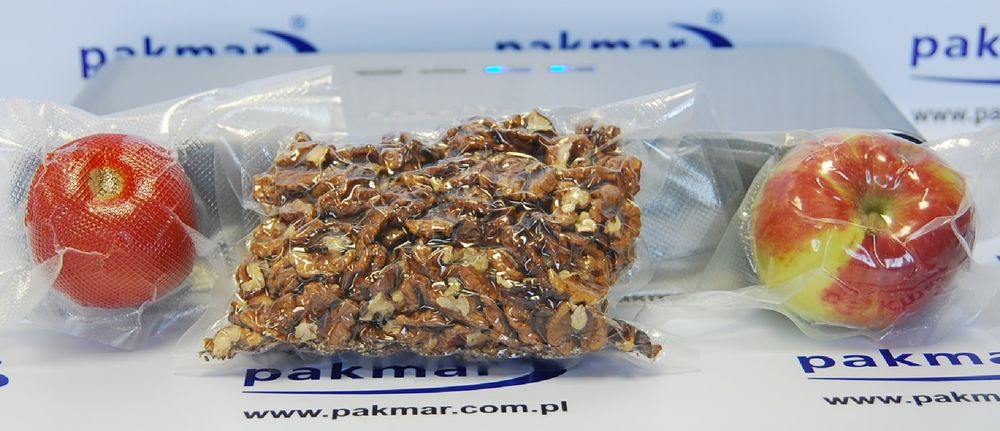 Bags made of PA/PE, OPA/PE, OPP/PE films are designed to pack almost every kind of food: bones, meat, poultry, ham and sausages, vegetables, fruits and products requiring durable and damage-resistant film packing (tools, pens)
To pack fish and sliced meat we recommend combined bags: transparent top film and metallized (PET/PE) bottom film. Such packaging makes good impression on every customer and extendes the shelf life.
Bags made of duplex, triplex, quadruplex laminates (PET/AL/PE, OPP/PET/met/PE, paper/AL/PE) are designed to pack sour food (also in vinegar) as: mushrooms, sauces, sauerkraut, pickles, ketchup, mustard and dry food as jelly, pudding.
Laminates with aluminium foil have excellent barrier properties therefore are recommended for packing all products requiring keeping their lovely, specific aroma for long time, like coffee, tea, cocoa.